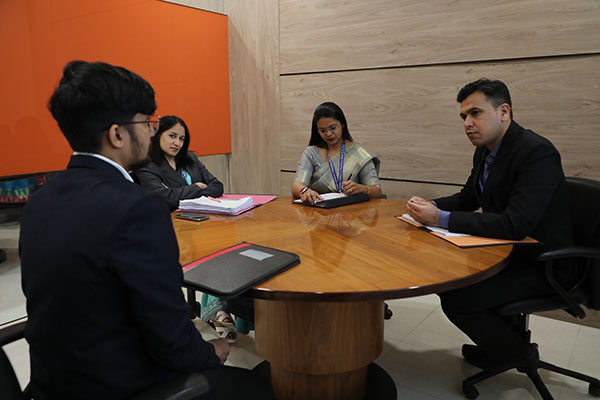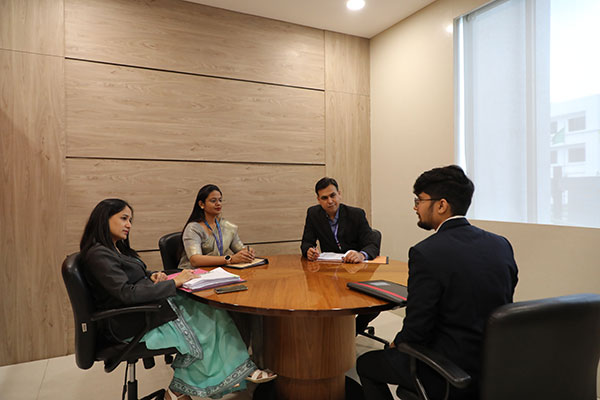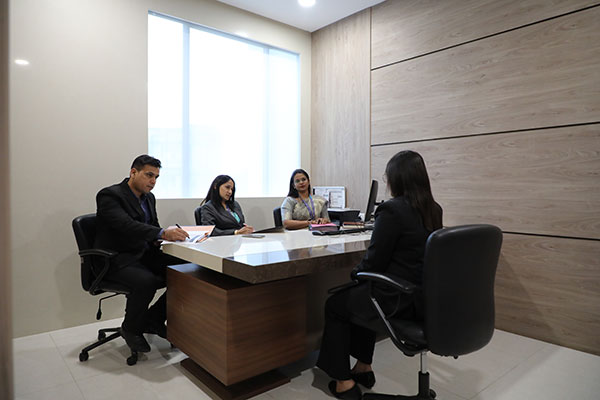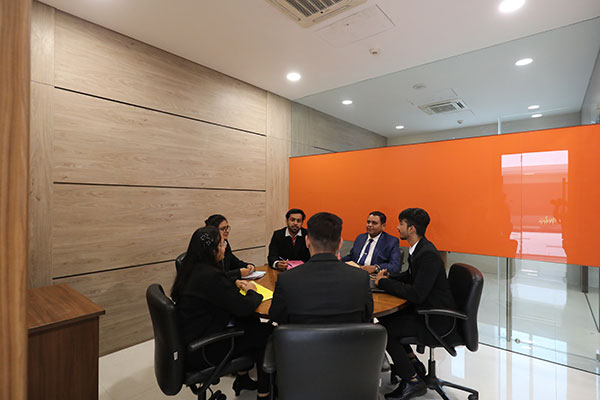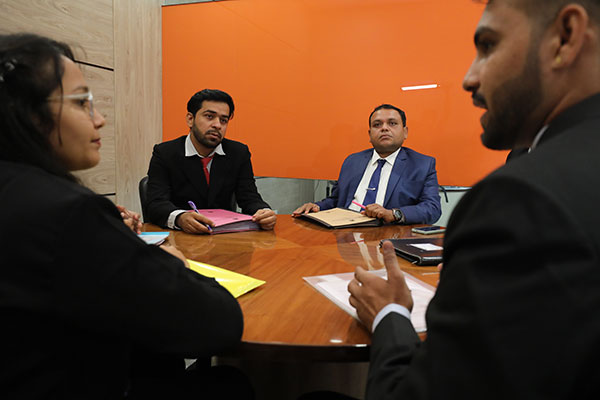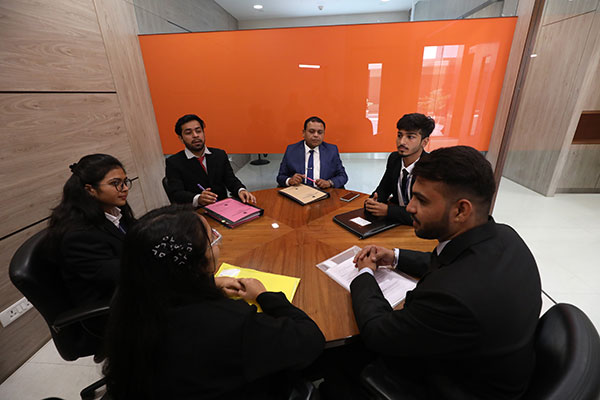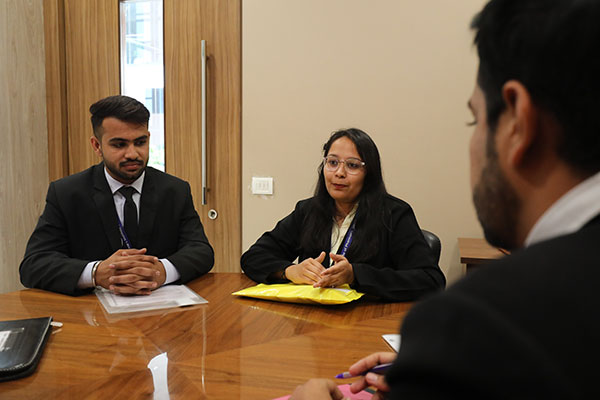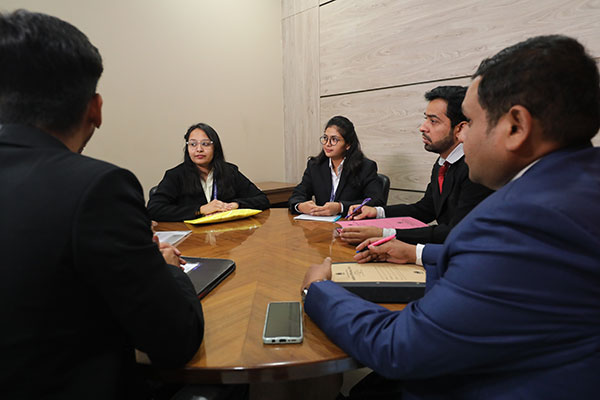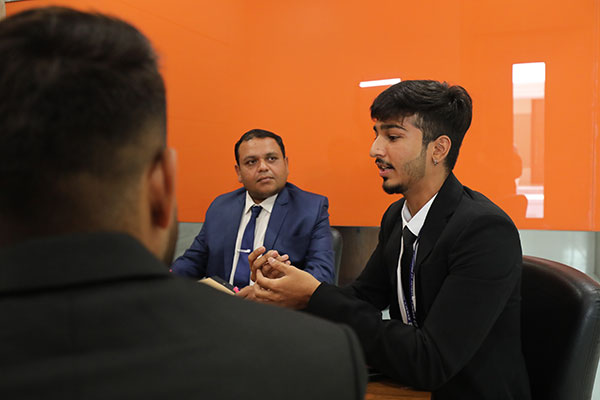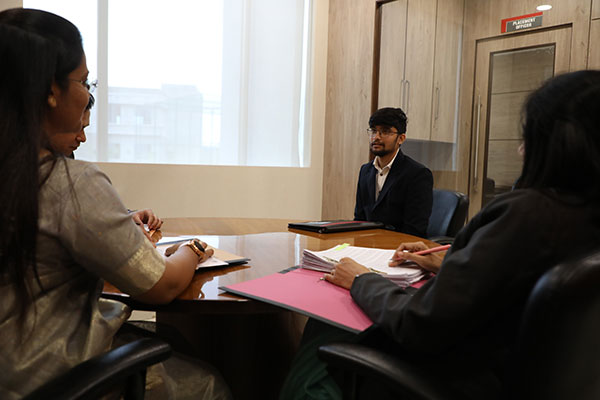 Introduction
The Institution has a full-fledged Training and Placement Cell in order to help students choose an appropriate career and improve their Employability skills.
The Training & Placement Cell trains the students to meet the industry expectations and start their careers with the best Company.
The Placement cell of Institution has a dedicated team of Placement Officer and faculty members, who work towards providing Aptitude training, Soft skills training, Internships and Final placements.
The team works throughout the year to provide better placement to all the students in their area of interest and is involved in various activities with an aim to achieve maximum placement.
It provides a platform for students to make it to the best and reputed industries and operates with the primary objective of placing students in reputed companies even before they have completed their courses.
Objectives
Get in touch with corporate, start-ups for different sectors and tap in opportunities.
Maintain Database of Companies and establishing strategic links for campus recruitment.
Make connections, Collaborate and set meetings with HR department and TPO's.
Maintain Corporate relations with past, potential and future recruiters and assist the recruiters to achieve their hiring goals.
Develop a sense of trust, belief amongst the industry on SVKM's Institute of Pharmacy.
Facilitate knowledge, skill sets to the batch required for placements by conducting mock placement drives for the batch students.
Adapt to the current market scenario with interaction and regular visits with the industries.
Get in professionals with coveted position in the industry for guest lectures.
Help students realize and work towards their short and long term goals through individual counselling and group sessions.
Placement Committee
Karan K. Sharma
Training and Placement Officer
karan.sharma@svkm.ac.in
9403178615
Barkha Agrawal
Asst. TPO
barkha.agrawal@svkm.ac.in
Dr. Yogeeta Goyal
Placement Coordinator
yogeeta.goyal@svkm.ac.in
Dr. Kiran Aher
P G Coordinator
kiran.aher@svkm.ac.in
Sumit Rathod
Placement Coordinator
sumit.rathod@svkm.ac.in
Jugal Mandan
Placement Coordinator
Jugal.mandan@svkm.ac.in
Bhaveshwari Wagh
Placement Coordinator
bhaveshwari.wagh@svkm.ac.in
Kamini More
Placement Coordinator
kamini.more@svkm.ac.in
Why to recruit from SVKM IOP?
Here are the answers to some of the questions you might ask us before deciding to visit SVKM's Institute of Pharmacy, Dhule
Do you have sound management behind the institution?
Yes. Shri Vile Parle Kelavani Mandal (SVKM) has been imparting education in India since 1934. SVKM has established premier institutes in India like Mithibai College of Arts, Chauhan Institute of Science &AmrutbenJivanlal College of Commerce and Economics (Autonomous), Dwarkadas J. Sanghvi College of Engineering, SVKM's NMIMS Deemed University, Dr. BhanubenNanavati College of Pharmacy, and many more. All the institutes are known for their good NIRF rankings, their education, culture, quality, results, and placements.
What is the standard of your college in comparison with top colleges in the country?
SVKM's Institute of Pharmacy (IoP), Dhule is been established to impart education to rural students and develop them to be assets for the industry, which will eventually contribute to the growth of the nation. The SVKM's Institute of Pharmacy, Dhule was established in 2017 with aim to spread Pharmacy education to deserving students and thereby render social services. This centrally located college has emerged as center of academic excellence in the field of Pharmacy within a short span. The state of the art infrastructure, competent and professional staff members, which synergize to extend competitive advantage to students. More than 50% of the faculty holds a Ph.D. degree and have industry experience too. The college provides an open platform to the students to nurture and hone their academic skills, inculcate research trends and contribute to societal activities within their academic career.
What is the infrastructure and teaching faculty in the college?
The institute building consists of 16 smart classrooms and 20 well-equipped laboratories with smart board and projector in each section. The Institute also has its own mini auditorium with a capacity of 150 chairs. Institute has a computer centre with more than 100 PCs along with 16 Mbps (1:1) internet connectivity. The Institute's central library covers a ground area of about 181.5 sq.m. The interior of the library is well furnished, with ergonomically designed seating arrangements, with more than 4000 titles. We have central instrumentation with industrial grade instrumentation facility for the practical exposures to our students. We have qualified and experienced faculties for teaching including 17 doctorates from different disciplines with different pharma industrial exposures.
What are the value additions to the students?
'Soft Skill Development' programs for SY, TY & Final Year students in association with NMIMS University.
Placement training programs for Final year students – APT, GD & PI.
Coursera Courses with minor specialization certificate from NMIMS University
Spoken Tutorial and Swayam-NPTEL in Collaboration with IIT Bombay
Industry- Expert lectures and Workshops on state-of-art Technology.
Industry-Sponsored Projects are made compulsory.
In-plant Vocational training. (at the semester end)
Industrial visits are made compulsory.
MoUs are signed with reputed Industries to Enhance Industry-Institute Interaction
Students & staff are motivated to participate in model-making competitions, project exhibitions, technical symposiums, seminars, and workshops.
The latest journals, E-journals, magazines are made available at the library
Do you have facilities for conducting campus recruitment?
Yes. The Training and Placement Cell of the Institute has a good infrastructure for conducting activities like Campus Interviews, Group Discussions, Aptitude tests, Expert Lectures. The Cell has separate interview cabins, GD Rooms with conference table arrangement, AC Seminar hall with the latest LCD and PA system arrangement for presentation, separate halls for conducting written test. The institute offers accommodation to the recruitment team at our guest-house located in the campus.
Where is your college located?
The college is located on Mumbai - Agra National Highway, at Dhule. Nearest Railway Station Dhule- 2 km, Nearest Airport Aurangabad-157 K.M.
We heartily invite you to conduct campus recruitment and tap the best talents of our college.